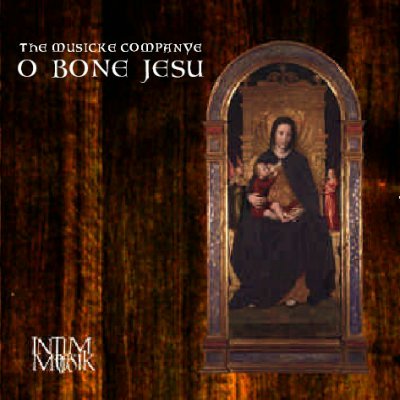 Sacred motets by Monteverdi, Gagliano, Grandi, Cavalli and Domenico Scarlatti Instrumental works by Frescobaldi, Michelangelo Rossi, Domenico Gabrielli and Jacchini.
| | |
| --- | --- |
| Philippa Hyde | soprano |
| Paul Esswood | counter-tenor |
| Lynda Sayce | theorbo |
| Jennifer Janse | cello |
| Helen Rogers | harpsichord and chamber organ |
Published by Intim Musik
Claudio Monteverdi (1567-1643)
Song 'Jubilet' for soprano and continuo
Alessandro Grandi (c.1575-1630)
Duet 'O intemerata'
Duet 'O sacrum convivium'
Domenico Gabrielli (1659-1690)
Ricercar No III in D major for solo cello
Giuseppe Maria Jacchini (c.1663-1727)
Sonata in A minor, op.1 No.8 for cello and continuo
Alessandro Grandi
Song 'O quam tu pulchra es' for alto and continuo
Claudio Monteverdi
Song 'Exulta Fillia Sion' for soprano and continuo
Girolamo Frescobaldi (1583-1643)
Canzona No VIII (della la Ambitiosa) in G minor
Domenico Scarlatti (1685-1757)
Duet 'Salve Regina'
Michelangelo Rossi (c.1601-1656)
Toccata No IV in G minor
Toccata No VII in D minor
Alessandro Grandi
Song 'O dulce nomen Jesus' for alto and continuo
Marco da Gagliano (c.1575-1642)
Duet 'Vergine Chiara'
Duet 'O Meraviglie belle'
Francesco Cavalli (1602-1676)
Duet 'O Bone Jesu'
If you would like to purchase this CD, please send a cheque for £12 + p+p (£1.50 inland, £3.00 worldwide) to the address below, remembering to include your name and postal address.
The Musicke Companye, 22 Hollybush Road, Hook Norton, Banbury, Oxon. OX15 5LY England.